search sponsored by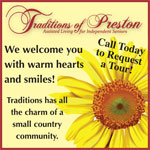 9/21/2010 12:51:00 PM
Norwegian visitors explore local dialects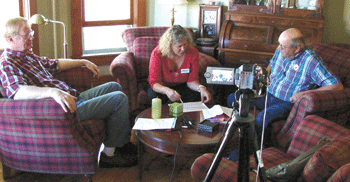 Norwegian speaking volunteers met with Norwegian researchers to talk and record their stories and language usage so that it can be reviewed and studied. Janne Bondi Johannessen, center, speaks with two volunteers at Mike and Diane Schmidt's home in Spring Grove.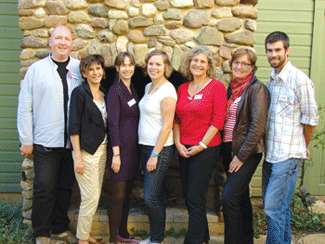 The research group included, left to right, Arnstein Hjelde, Marit Westergaard, Beate Taranrød, Signe Laake, Janne Bondi Johannessen, Kristin Eide, and Luke Annear.
"It is very interesting to

see how Norwegian has developed in these different places. The vocabulary

is very interesting here."

Janne Bondi Johannessen,

Univ. of Oslo
---
By Marlene Deschler
Community Reporter

When settlers first came to this area most spoke Norwegian. However, they had to learn English in order to survive and assimilate and with the passage of time Norwegian was not spoken as much in homes, parents didn't teach it to their children and slowly the prominence of that language spoken in this area diminished.

However, bits and pieces can still be heard in and around the Spring Grove area to this day because a few people continued to learn it if only maybe to know what their parents are grandparents were saying when they spoke in Norwegian.

Six researchers from various universities in Norway visited the area recently to speak with Americans that learned Norwegian from a relative and not from taking formal classes or living in Norway.

"The Scandinavian countries have been cooperating in a study of the different dialects that exist in the different countries," explained Janne Bondi Johannessen, professor at University of Oslo.

"All the Scandinavian countries actually speak the same language, just different dialects. We wondered if Norwegian was still spoken in the United States; we didn't think so, but the research council thought it was a good idea to research so we were given extra funding to do this research."

This past winter, an ad was placed in newspapers looking for people that spoke Norwegian that was learned from immigrants that came to the United States before 1920.

Johannessen and Signe Laake, research assistant from the University of Oslo, received about 20 replies with some saying they knew others that spoke it as well. In March, Johannessen and Laake came to the United States for about two weeks interviewing people in Wisconsin, Minnesota, South Dakota, North Dakota and the Chicago area.

"We were surprised to find similar dialects through out this area since the people were so scattered," commented Laake.

"After being here in March, we realized there were more areas and more people that spoke Norwegian and decided that we needed to come back," added Johannessen.

During this recent visit, they interviewed people in Blair and Westby, Wis., Decorah, Iowa, and Mabel and Spring Grove, Minn.

In Norway today there are also different dialects spoken. Amongst these six researchers, five different dialects were spoken.

"The Norwegian language here [United States] is different from in Norway because the immigrants spoke different dialects when they came to the United States and when they settled they may have been with other Norwegians, but of different dialects so the dialects mixed together," explained Johannessen.

"It is very interesting to see how Norwegian has developed in these different places. The vocabulary is very interesting here."

The volunteers that spoke with the researchers were also recorded via audio only or video. The information gathered is important to language researchers and will be transcribed so that it may be used in the future by researchers as they study the development and changes in the Norwegian language not only in Norway but in other countries.

With these conversations transcribed, they can study the syntax (the patterns of sentences), the phonology (the patterns of speech sounds) and the semantics (meaning of words) of Norwegian in America.

Johannessen remarked that she noticed Americans have kept many of the Norwegian traditions, but practice them in different ways.

Laake added that she was surprised to find that the people they spoke with were still "very Norwegian - they enjoyed similar things like cakes and coffee and were very hospitable." She even found similarities in their looks, "they look like the elder Norwegians at home."

The other researchers that were part of the group were, Kristin Eide, professor, Norwegian University of Science and Technology, Trondheim; Arnstein Hjelde, associate professor, Høgskolen i Østfold; Beate Taranrød, student, University of Oslo; Marit Westergaard, professor, University of Tromsø; and Luke Annear, Masters of Scandinavian Studies student from University of Wisconsin-Madison.

Giants of the Earth Heritage Center in Spring Grove helped welcome the researchers to the area and helped coordinate the interviews. The Giants are also very interested in preserving these oral histories of stories told about life in the early years of Spring Grove.

"We would like to continue Norwegian language conversations on a regular basis," commented Jill Storlie, Giants of the Earth board member. "Maybe some of the younger generation will begin to learn Norwegian and be able to pass it on! We would like to start a 'kaffe stua' or 'coffee break' where people can meet and speak Norwegian."

The Giants of the Earth Heritage Center is located in the historical Ballard House on Main Street in Spring Grove. Currently their area is being remodeled, once complete watch for more information about a "kaffe stua."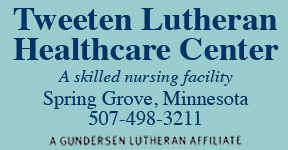 Article Comment Submission Form
---